Please
Login
to create posts and topics.
Pastor A.C. Ohanebo will be addressing a Summit at Hall 1, Trade Fair Complex, Ojo
330 Posts
#1
· May 15, 2022, 3:20 pm
International Gospel Ministers' Conference (I.G.M.C.) Of The Hour
Lagos Subregion
invites all gospel Ministers, particularly those in Lagos and Ogun States to a special Gospel Ministers' Summit with the theme *End- Time Realities And God's Eleventh Hour Agenda
The Apostle of the Lord's End-Time Project and Senior Pastor of Watchman Catholic Charismatic Renewal Movement, Pastor A.C.Ohanebo will be addressing the Summit
Date: Thursday, May 19, 2022
Time: 10.00 AM
Venue: Hall 1, Trade Fair Complex, Ojo.
The Summit will also be aired live on: https://live.igmcofthehour.org or https://youtube.igmcofthehour.org
We look forward to your presence.
Signed:
Rev. Innocent James (Coordinating Chairman)
Pastor J.B. Poopola (General Secretary)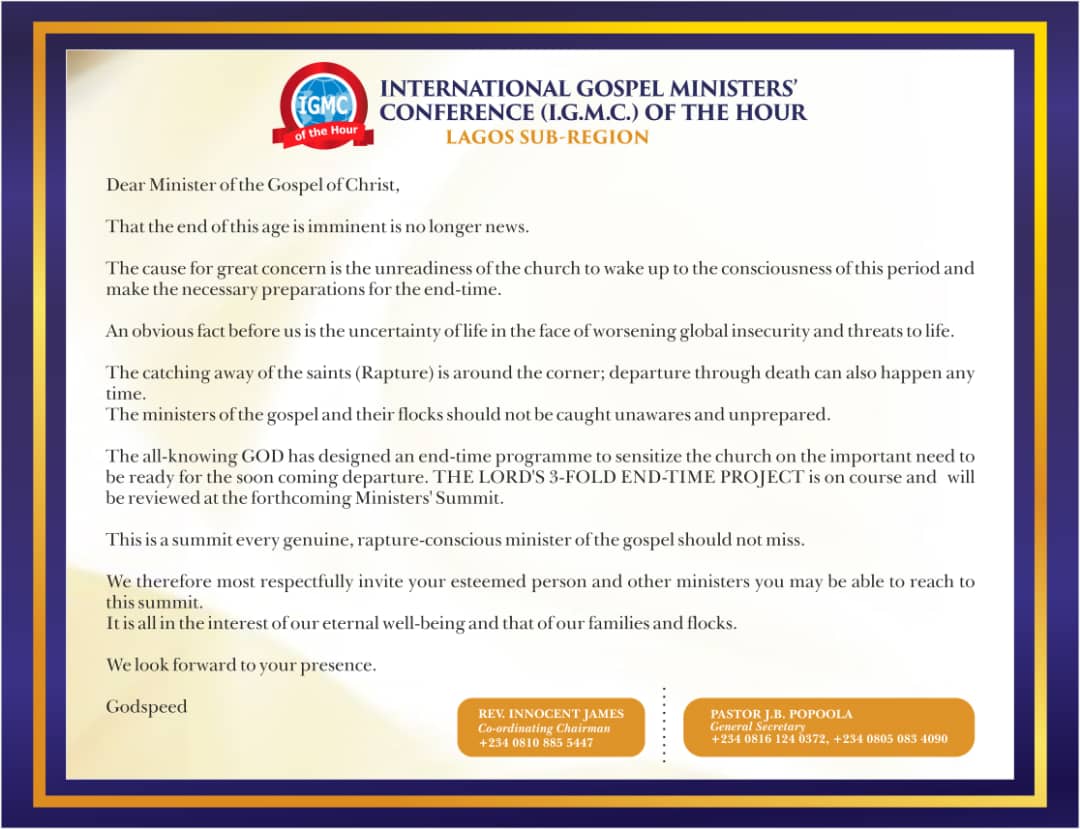 Click for thumbs down.
0
Click for thumbs up.
0
I want brethren to join me to appreciate God almighty who granted unto my wife safe delivery, the enemy tried to kill the baby with the umbilical cord which went through the babies neck twice, but God intervened as a result of the prayers of his servants. today the baby is very fine and my wife also very fine, please bless the Name of the Lord with me
Ohaekwe Onyeka Stephen
Lagos, Mushin District, Papa-ajao parish, 24, Olanibi street
07064586896